Decking the Halls Safely: Our Top Holiday Decorating Safety Tips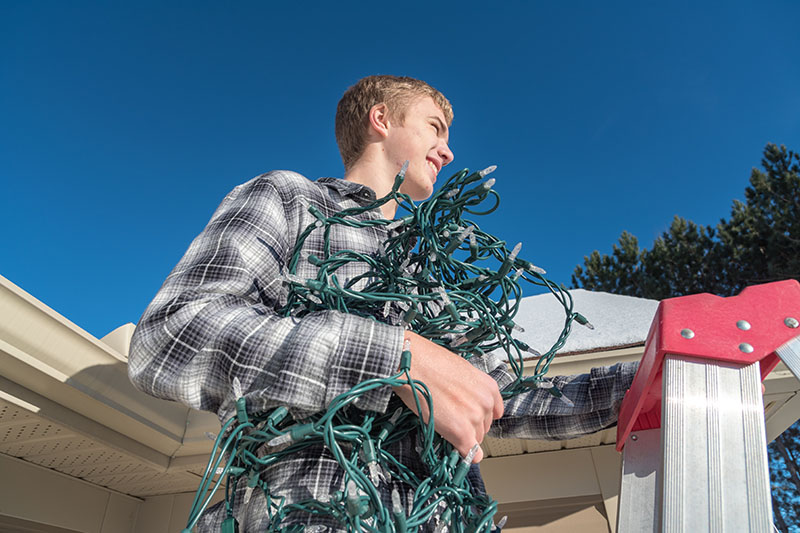 December is one of the most festive months all around the world as many cultures celebrate Christmas, Hanukkah, or other winter holidays. Many families take this opportunity to show their holiday cheer by decorating the interior and exterior of their homes with lights. Here are a few holiday decorating safety tips for decking the halls safely & keep you jolly all season long.
Practice ladder safety. When hanging lights or other decorations around your home, make sure that you have a helper holding the bottom of your ladder who can also get help if needed.
Follow extension cord guidelines. Feel free to use an extension cord with your holiday lights but don't overload the circuit. Your extension cord and holiday light strands should have published guidelines about how many strands you can put together safely.
Make sure that you water your Christmas tree. A dry tree with a lot of hot-burning lights on it is a recipe for fire disaster. One of our most important holiday decorating safety tips is to check the tree's water everyday to avoid a disaster, and add water to the base as needed.
Replace old or frayed lights. If your lights are showing their age, it's time to replace them. Frayed cords and exposed wiring is hazardous for your home and especially dangerous if you have young children or pets around. Upgrading to newer lights can also be more energy efficient, saving you money on your electric bill.
Be aware of open flames. Holiday lights originated as burning candles meant to create a festive environment during this celebratory season. As far as safety tips for holiday decorating goes, this one is non-negotiable. If you like burning a holiday candle, make sure to keep it away from flammable items and always extinguish it if you will be leaving the room (and always make sure you're fully covered by your home insurance!)
Whether you are decking your halls with holly or twinkle lights, following our holiday decorating safety tips can make your season both merry and bright.