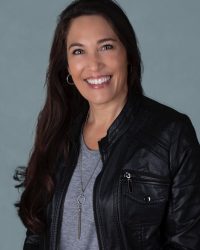 Hi! I'm Michiele Stapleton. I'm originally from Washington state, but have always wanted to live in Colorado! My dream came true as the Air Force moved us to Peterson AFB in 2000. As a Meteorologist in the Air Force, I learned the benefits of excellent customer service, attention to detail, and building and maintaining relationships. I believe in servant leadership, and have a very strong work ethic. I would love to put these qualities to work for you, whether you are looking to buy, refinance, or are open to creative options and solutions. I look forward to helping you find the right loan for the right reason!
On the home front, I have 3 children and 4 grand children that I adore! I also have a passion for God, music and sports and have won several state, national, and world Racquetball titles. Most weekends you can find me riding my motorcycle to various church or sporting events, or on one of the beautiful mountain passes.
If you are looking for high-quality, ethical, efficient service, then give me a call and I will make sure all the options are explored to find the perfect loan, tailored to meet your exact situational needs.
I'm here to answer any questions you might have about our products and services. Feel free to contact me using any of the following methods:
mstapleton@719lending.com